Discover or rediscover the full Streets of Rage 4 campaign as a team and play as Axel, Blaze, Adam or their friends to get rid of the new threat menacing Wood Oak City.

Choose your duo wisely and combine you favorite characters' strengths to defeat the syndicate together in story mode!

The multiplayer update is available online for up to two players.


Avid for more challenges? Face-off with your friend and test your best combos across the game's 12 iconic levels in the new Battle Mode. How many hits will you get?


Find out today for free!
Play online with a partner and gang up to defeat the Y twins' evil plan together! All of the game modes except the training room are playable with the online multiplayer feature (with up to two players simultaneously)
Test your strength : hop in Battle Mode and fight your friends across your favorite levels
Crossplay available between iOS and Android players
Rediscover the classic beat'em up Streets of Rage franchise with new fight mechanics
Get thrilled by the Retro hand-drawn comics-inspired artistic direction by the studio behind Wonder Boy: The Dragon's Trap serving juicy animations & vivid FX
Unlock up to 5 new & emblematic playable characters and fight your way through 12 various stages to bring back order to the streets
Challenge yourself and your friends in different modes: Story, Training, Arcade…
Listen to a new Electro OST with world class musicians like Olivier Derivière and legend Yuzo Koshiro
Get retro with up to 13 alternative retro characters, secret retro levels or choose the SoR1&2 OST and enable the Retro Pixel graphics!
3 new playable characters
A new Survival mode with weekly challenges
Character customization: build your own fighting style with new moves
New weapons and enemies!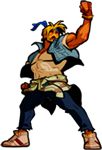 Crack your knuckles and get ready for Streets of Rage 4 everywhere you go!